High-Tech Contamination Control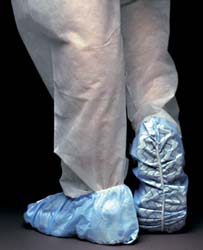 Cleanroom clothing is made from material that is low-linting and has a low particle release to minimize the spread of dust and particulates from one place to another. Depending on the work environment, different levels of protection may be required. That is why we provide clothing that provides a wet dry barrier. You can find garments that protect against light fluid splash or that are impervious. All cleanroom garments are lightweight, breatheable, and designed for worker comfort. Cleanroom clothing whether it is coveralls, sleeves, shoe covers, hair nets, or other garments are disposable for easy dust control. Disposable clothing is suited to a number of different applications such as construction, manufacturing, medical facilities, industrial, server rooms, foor processing, and more.
We offer several sizes, styles and material when it comes to our cleanroom products. Click here for different products available.
Cost Effective and Easy to Order!
Cleanroom products will save businesses money when it comes to keeping product clean, making repairs due to dust build up, and minimizing time and costs of cleaning work areas. Disposable clothing is easy to order, simply call, email, or place your order online.